Bob Winter, Faculty Emeritus - Blended Gift - Retain Life Estate/Charitable Gift Annuity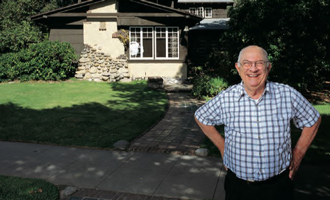 IN A RECENT OCCIDENTAL MAGAZINE SURVEY, members of the Class of '68 were asked to name their three favorite courses and professors. To no one's surprise, History of Civilization topped the courses, and Bob Winter finished well in front of the pack as their favorite professor.
In the 24 years since Winter retired as the Arthur G. Coons Professor of the History of Ideas Emeritus, he's written numerous books and continues to be a regular contributor to American Bungalow Magazine, which he helped found back in 1990. In an interview at his beautiful Pasadena home-the Batchelder House designed and built by Ernest Batchelder back in 1910-he reflected on his earliest influences, his time at Oxy, and why he's leaving his home to the College.
Who were your own influences as a professor? My greatest experience was at Bowdoin. Edward Kirkland, who became a second father to me, hired me. When he was made a William Pitt Professor [of History and Institutions] at Cambridge in England for six weeks, he asked me to take over his course. Here was one of the most brilliant lecturers and discussion leaders in the country leaving his class to this character. He said, "Bob, why don't you give a couple of lectures and I'll criticize them." And after the second one, he said, "Bob, you know you're trying to imitate me. Find your own style and stick to it."
What did you do after you retired in 1994? When I retired I had this terrible feeling: "I'm worth- less. I'm not doing anything." And I went to a shrink. And, of course, I found out that they just give medicine-they're not interested in my tales. And I said to my doctor, "I'm not demented-I'm just bored!" [Chuckling]
So, I continue to write books and I publish in every issue of American Bungalow Magazine, and I've been in a very happy state ever since. Because you've got to have something to do. That's what I would like to tell the people that are retiring now: They must find something else to do. I think the best thing is to involve themselves in the city, wherever they are.
What have you been writing about lately? I read a book by Margaret Forster called My Life in Houses. I'm an architectural historian, and she offers quite a different view. It's about your reaction to the house - what affected you in the house. And it's terrific. So, Ive just written an article about my boyhood in Elkhart Indiana, which doesn't sound very interesting, but it was an idyllic childhood. We had a house on the banks of the St. Joseph River - we called it the Sanit Joe - and my brother Jim and I swam in it in the summertime, and we skated on the river in the wintertime. But my mother and father took us on a tour in 1936. We started in Vermont and drove down the coast to Washington, D.S., where my father had worked for a while. And one of his newspaper friends said: "Im going to a press conference with Franklin Delano Roosevelt, would you like to go along?" S, Dad - who was a dyed-in-the-wool Republican-went to it, and he was utterly charmed by Roosevelt. And he wrote three editorials for The Elkhart Truth on his experience with Roosevelt, and they were so laudatory. My mother sent them to my grandfather, and my grandfather wrote back: "I remember that Lester had a blood transfusion a few years ago. I've always known it was a Democrat." [Laughing] (Following the trip, Winter's mother transformed the family home in Indiana into a Williamsburg-style colonial house.) It was an utterly dreary looking house, but she put shutters on it, and she decorated the interior with Williamsburg wallpaper and all that stuff. That's how I became an architectural historian, really. This affected me, and after I bought this house, my mother came in here and said: "Bob, you have got to get some lamps and light this place up! This is terrible!" And I said, "Well, Mother, if we put in lots of light and so on, it would change the whole mood of the house-it would spoil the character of the house." She said, "I don't care! I want light!"
What inspired you to leave the house to Oxy? Arthur Coons had the guts to hire me over the wishes of the history department, which I joined later and chaired. It was Arthur who decided to make me the professor of ideas [an idea that he borrowed from Johns Hopkins University]. I never taught a course called the History of Ideas, but I owe every- thing to Arthur.
I do love the College. I eat with friends at Colombo's quite often and afterward we'll go through campus, and I'll point out all the buildings-I have wonderful experiences with all of them. You know, the art building used to be behind the library, and they tore it down. And I went in to see David Axeen, who was dean at the time, and I said, "This is shocking. Putting a science building in there is ridiculous. We need that for stacks for the library." And David said, "No we don't. It's all going to be on the computer." I never thought of that, and it's true.
I fought the computer. When they were talking that computer language at the Faculty Club, I would just laugh at them and say it's just a passing fancy. Now I wouldn't be able to write without them.
You're finishing work on the sixth edition of An Architectural Guidebook to Los Angeles. Will the new book be available digitally? Yes, we're working on that it's because, (co-author), Bob Inman is on top of that. It's still a little hard to get the publisher to agree to that. For a guide to architecture that's what you need. Bob has a tendency to put in everything that he likes that he sees.
What's your most memorable teaching moment at Oxy? For History of Civ, I gave a lecture on Roman architecture and I came in dressed in a sheet - a toga. I said that I've got to change into more comfortable clothing. I took it off and, of course, I was dressed (laughing). No one will ever forget that one.
"Members of the Oxy community who support Oxy through their estate plans have provided us with an incredibly distinctive gift-an infinite investment in the College. We are grateful to these generous donors whose forethought will allow Oxy to deliver our exceptional liberal arts education to generation upon generation of talented students."
- President Harry J. Elam, Jr.

"Oxy showed me that the path to one's goals need not be linear or conventional. I learned how to think, to write, to create; to trust my instincts and pursue my interests with passion and a standard of excellence. Not a day has passed that I have not been rewarded in some way by my Occidental education."
Michael and his wife Pamela recently documented an estate gift to support the Obama Scholars Program and the EdgertonOccidental Merit Scholarship.