Evelyn Thompson Kieffer '40 — Charitable Gift Annuity (CGA)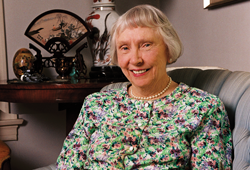 When Evelyn Thompson Kieffer '40 was 7, her parents built a home reminiscent of their Maine roots across the street from Occidental College-a place that she calls home today. As the daughter of Guy A. Thompson, professor of American literature at Occidental from 1921-41, she was keenly interested in what was happening on campus. Her curiosity was shared by her dog, which would frequently show up uninvited at President Remsen Bird's house.
As a student at Occidental, Evelyn had to take a class from her father, which she concedes was "a little bit nerve-wracking." She followed closely in his footsteps, teaching English literature and History of Civilization at Occidental from 1943-63 and building her own reputation as a tough grader. Once, after the first day of classes, Evelyn got a report back from one of her readers that a group of students had been conversing and they believed that "Miss Thompson" would be a pushover. "My reader was afraid to tell them the truth," she says, chuckling at the memory.
Evelyn taught at Occidental until 1963, when her husband, Pasadena book dealer Jay Kieffer, complained that he was tired of her bringing her work home every night. (Fittingly enough, Jay converted the six-car garage of their onetime Pasadena home into an array of bookshelves for inventory purposes.) After a year or so, Evelyn decided to return to work, first as a zoning coordinator for Sutro and Co. and later as director of development for USC's School of Education, retiring in the 1980s.
Feeling "it was time to do something for Oxy," Evelyn created a charitable gift annuity arrangement with the College that will generate a fixed income stream for the remainder of her life and ultimately benefit the College.
In addition to the lifetime income and charitable deduction that a charitable gift annuity arrangement provides Evelyn, she has the satisfaction of knowing that the proceeds will eventually be used to support Occidental's educational mission. And that's an A-plus effort any day.
To learn how you can make a gift to Oxy, contact Office of Gift Planning at (323) 259-2644 or [email protected]
"Members of the Oxy community who support Oxy through their estate plans have provided us with an incredibly distinctive gift-an infinite investment in the College. We are grateful to these generous donors whose forethought will allow Oxy to deliver our exceptional liberal arts education to generation upon generation of talented students."
- President Harry J. Elam, Jr.

"Oxy showed me that the path to one's goals need not be linear or conventional. I learned how to think, to write, to create; to trust my instincts and pursue my interests with passion and a standard of excellence. Not a day has passed that I have not been rewarded in some way by my Occidental education."
Michael and his wife Pamela recently documented an estate gift to support the Obama Scholars Program and the EdgertonOccidental Merit Scholarship.