Karen and Eric Warren '69: Giving Where It's Needed Most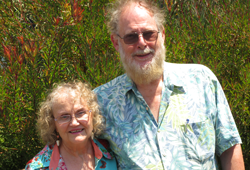 Eric, why did you choose Oxy?
I grew up in Eagle Rock and went to elementary, junior high and high school, with children of Occidental College faculty. It was a natural selection for college. I remember going to school with Professor Andrew Rolle's children. My parents wanted me to live on campus because it was important to my college experience, so I lived in Stewart-Cleland and later Bell-Young dormitories.
Eric Warren '69 has worn many hats.
Eric graduated from Occidental as a Speech major, and attended graduate school at Stanford. After completing his MFA, he taught theater at Los Angeles City College and San Diego State before going to work for his dad in electrical design.
At age 36, he pursued a career in show business. Eric worked on many low-budget theater productions before landing jobs as a set designer, most notably an 11-year run on the hit NBC series "ER." Eric is currently the President of the Eagle Rock Valley Historical Society. He has written two books on the history of Eagle Rock, "Eagle Rock" and " Eagle Rock: 1911-2011 " (Arcadia Publishing) and a third book "Pioneers of Eagle Rock" in collaboration with Frank F. Parrello.
In 2012, for Occidental's 125th anniversary, Eric worked with the College's Special Collections staff on "The Road to Eagle Rock," a pictorial exhibit on Oxy's early years. He was also the driving force behind the Preservation and Digitization of Northeast Los Angeles Community Newspapers project, in conjunction with Oxy and other community partners.
Eric met his wife, Karen, through a mutual love of river rafting. Karen attended Concordia Teachers College (now known as Concordia University) in Seward, Nebraska. Over the course of her career, she has taught elementary school and Montessori school and worked in various positions in the retail industry. (Eric adds that Karen "has a great eye for design" and has helped him on many projects.
How important was your liberal arts education to what you did after Oxy?
Oxy prepared me through literature and art for my work in electrical and staging design. It gave me the ability to integrate the two giving him a big advantage with a wide range of knowledge. In show business, it is important to know all aspects of life. Oxy provided a varied range of intellectual challenges.
What are some of the highlights that stand out in your mind while at Oxy?
I loved the fact that I was able to associate with faculty as well as students from all backgrounds. The 1960s were quite a time to be at Oxy. One major change that happened out of the many student protests was granting women students equality in the dorms.
Why do you continue to support Oxy? What would you say to other people who are considering or haven't considered leaving a legacy at Oxy?
Karen: A liberal arts education encourages you to explore the world through reading. From a personal standpoint, it makes your life better.
Eric: Supporting Oxy was and is a very important part of our lives. Karen and I are very cognizant of the fact that there needs to be a continuous effort to train people in culture and tradition. We want to afford students the same opportunity we had.
The Warren's gift will make an impact at Occidental College and in the lives of students for generations to come. To learn how you can make a gift from your will to Oxy, contact Office of Gift Planning at (323) 259-2644 or [email protected].
"Members of the Oxy community who support Oxy through their estate plans have provided us with an incredibly distinctive gift-an infinite investment in the College. We are grateful to these generous donors whose forethought will allow Oxy to deliver our exceptional liberal arts education to generation upon generation of talented students."
- President Harry J. Elam, Jr.

"Oxy showed me that the path to one's goals need not be linear or conventional. I learned how to think, to write, to create; to trust my instincts and pursue my interests with passion and a standard of excellence. Not a day has passed that I have not been rewarded in some way by my Occidental education."
Michael and his wife Pamela recently documented an estate gift to support the Obama Scholars Program and the EdgertonOccidental Merit Scholarship.