Tax-Free Sale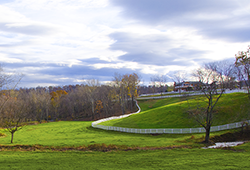 Howard and Lynn were both age 55 when they purchased some vacant land a few miles outside of town. They thought real estate would be a good investment that could be sold later for a profit.
Over the years, development from town has moved toward the property, and their land is now next to a large commercial store. Howard and Lynn rent the property to the commercial store, which uses the property for overflow parking.
Howard: The property had been a good investment. We owned it for over 15 years. The rental income had been enough the last few years to pay the property taxes, but we wanted to sell.

Lynn: We told our tax advisor that we were starting to think about selling the land. He told us that if we sold, we would have to pay capital gains tax. We were concerned about this until he explained how a charitable remainder unitrust could help us avoid the tax.

Howard: By transferring the land to the trust, we saved $36,000 in capital gains tax and received a charitable income tax deduction that reduced our income taxes by $18,000. That is over $54,000 in total tax savings! We were delighted with the tax benefits of the unitrust.

Lynn: The trust was able to sell the land and reinvest the sales proceeds. The trust pays us income from its investments. We had very little income from the land before, but now we receive nearly $12,000 from the trust each year! This increased income is one of my favorite parts of the trust plan.


Is a tax-free sale from a charitable remainder unitrust right for you?
If you own highly appreciated property, such as real estate or stocks, you could benefit from a charitable remainder unitrust. The trust will help you bypass capital gains, will provide you with a charitable income tax deduction in the year of the gift and could increase your income.
*Please note: The names and image above are representative of a typical donor and may or may not be an actual donor to our organization. Since your unitrust benefits may be different, you may want to
click here to view a color example of your benefits
.
"Members of the Oxy community who support Oxy through their estate plans have provided us with an incredibly distinctive gift-an infinite investment in the College. We are grateful to these generous donors whose forethought will allow Oxy to deliver our exceptional liberal arts education to generation upon generation of talented students."
- President Harry J. Elam, Jr.

"Oxy showed me that the path to one's goals need not be linear or conventional. I learned how to think, to write, to create; to trust my instincts and pursue my interests with passion and a standard of excellence. Not a day has passed that I have not been rewarded in some way by my Occidental education."
Michael and his wife Pamela recently documented an estate gift to support the Obama Scholars Program and the EdgertonOccidental Merit Scholarship.