SUSANNE SPARKS '64 - Bequest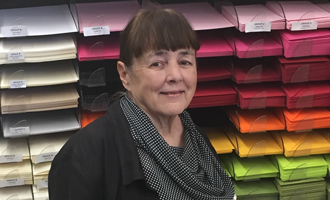 New Colors, Shapes, and Sounds
Oxy opened up new vistas to Susanne Sparks '64. Now she's preparing a canvas for future generations through her bequest.
SUSANNE SPARKS '64 GREW UP IN a small town in Texas. Her father was a professor of history at Texas Woman's University, and she heard about Oxy from her childhood friend, Bill Grant '63 (their mothers were college room- mates). Bill had finished his first year at Oxy, and she was thrilled to learn about all of the wonderful opportunities of a liberal arts education.
Susanne was very interested in humanities, and she wanted to be in Los Angeles where exciting things were happening in the art world. Although applied late to Oxy, she was not only admitted, but was awarded a scholarship as well. While her dad was excited for her to go to Oxy, her mother convinced her to go one year to Texas Woman's University. Susanne was able to defer her admittance and scholarship. She enrolled at Oxy in 1961 as a sophomore, majoring in studio art. Coming to California was "like whoa," she says. She thought the campus was beautiful and visually amazing for an artist. She loved her art classes and studied French for two years. Constance Perkins was her art teacher, and they stayed in touch for many years afterward. "Ms. Perkins went out of her way to give her recommendations when I needed them for jobs," recalls Susanne, who handled the layout for "La Encina" and was a work study in the library.
She graduated Phi Beta Kappa and was a member of Mortar Board. After she finished Oxy, Susanne went on to UC Berkeley where she received her master's degree in studio arts. After college she worked in the San Francisco Museum of Modern Art, taught art classes, organized children's programs, and led gallery tours. She took the summer off to travel with friends to Europe. She worked two more years and then moved to Paris, where she found a job doing cataloging in the American Library.
Susanne then went on to work in the American School of Paris, where she taught art for
five years. Upon returning to the United States, she worked as an art teacher at Castilleja School, an independent school for girls in grades 6-12 in Palo Alto. She taught there for 30 years before retiring. Susanne enjoys discovering art in new places and does a lot of traveling now with her friend, Bill Grant, with whom she's remained close all these years.
When Susanne began to think about a legacy, she decided she wanted to leave money to places that mean a lot to her-and Occidental is No. 1 on her list. "Oxy opened up a new world for me-just everything," she says. The Los Angeles arts scene brought new colors, shapes, and sounds into her orbit, to say nothing of expanding the boundaries of human creativity. She says that learning about the tax savings of opening up a charitable gift annuity was a big help to her. Susanne is also leaving a bequest to Oxy designated for the Studio Art department.
Asked about why she wants to leave a legacy gift to Oxy, Susanne explains, "It's nice to reciprocate because I gota good education and was awarded a scholarship and job to help with my Oxy education. I want others to have the same opportunities that I had."
"Members of the Oxy community who support Oxy through their estate plans have provided us with an incredibly distinctive gift-an infinite investment in the College. We are grateful to these generous donors whose forethought will allow Oxy to deliver our exceptional liberal arts education to generation upon generation of talented students."
- President Harry J. Elam, Jr.

"Oxy showed me that the path to one's goals need not be linear or conventional. I learned how to think, to write, to create; to trust my instincts and pursue my interests with passion and a standard of excellence. Not a day has passed that I have not been rewarded in some way by my Occidental education."
Michael and his wife Pamela recently documented an estate gift to support the Obama Scholars Program and the EdgertonOccidental Merit Scholarship.