Benjamin H. Culley, Mathematics Professor and Administrator — Bequest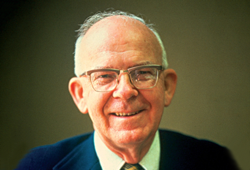 After 33 years at Occidental in a variety of roles-professor of mathematics, dean of men, dean of students, and director of financial aid among them-Benjamin H. Culley had a few observations to share about Oxy back in 1976. "The history of Occidental College is a proud one," he wrote in an all-but-forgotten publication, The Occidental Community Review. As he saw it, "Two seemingly unrelated but coincidental events" thrust Oxy into the national spotlight-a laudatory article about the College in Time magazine in 1962, and the breaking of the world pole-vault record five years earlier by Bob Gutowski '58.
In recounting some of the changes he had witnessed over the decades-"the emergence of faculty as a power in the governance of the College ... a proliferation of administrative personnel ... coed dorms, student-governed operations, relaxation of liquor regulations, etc."-he concluded: "In the final analysis, the College is a composite of students, faculty, and administration. To use a well-worn phrase, it is no stronger than its weakest link."
Culley-who died in 1982 while teaching in the classroom-remains a symbol of Oxy's past as well as promise of its future. When he drew up his will, true to his beliefs, he gave the bulk of his estate to Occidental. And since its creation in 1994, the Ben Culley Society has come to symbolize the rewards of philanthropy in perpetuity.
"Was there ever a more perfect match-up than the alliance of Occidental College and Ben Culley?" Morgan Odell '42 asked in 1984 at the dedication of the Benjamin H. Culley Athletic Facility. Generations of Oxy grads would say no-and if Culley were alive to enjoy the hoopla of the College's 125th birthday, one thinks he would marvel at the progress of his adopted alma mater, and give thanks to the hundreds of alumni and friends who have followed his example by making their own
To learn how you can make a gift from your will to Oxy, contact Office of Gift Planning at (323) 259-2644 or giftplanning@oxy.edu.